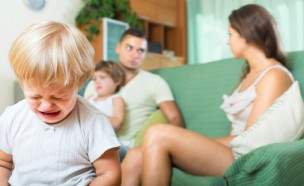 There is no "one size fits all" way that divorce affects young children, who are both resilient and fragile. They can adjust to the changes cause by separation if their parents develop a good co-parenting relationship and keep kids out of the conflict.
Young children can react to change in ways that seem strange to their parents. They may go back to a previous stage – for example, they now want a bottle when they had been drinking from a cup – or being clingy and anxious. Some children act out by becoming aggressive and angry; others withdraw or lose interest in playing and having fun. These behaviors can be a normal part of the divorce.
Parents sometimes forget that ending their relationship with each other does not end their relationship with their children. It's hard to put aside anger and hurt, but that's just what parents must do to help their children.
Remember that divorce doesn't end a family. It reorganizes a family into two households, and your family values and traditions can continue. Of course, this applies also to parents who have never been married but who have lived together with their child.
To speak with an experienced child custody and family law attorney, call Spivak Law Firm at (412) 344-4900 or toll free at (800) 545-9390.