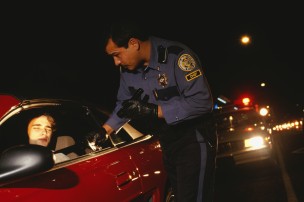 If you're stopped by the police, the Pennsylvania Department of Transportation (PennDot) suggests that you do the following for your safety and the safety of others:
-Activate your turn signal and drive as close as safely possible to the right edge of the road, stop, and park your vehicle safely away from traffic.
-Turn on your vehicle's interior light as soon as you stop and before the officer approaches, if it is nighttime.
-Limit your movements and the movements of your passengers – do not reach for anything in the vehicle.
-Alert the officer immediately, if you are transporting any type of firearm.
-Place your hands on the steering wheel, and ask any passengers to have their hands in view.
-Keep your vehicle doors closed as the officer approaches, and stay inside your vehicle, unless the officer asks you to get out.
-Keep your seat belt fastened until the officer has seen you are appropriately restrained.
-Wait until the officer asks you to retrieve your driver's license, registration and insurance cards. Do not hand the officer your wallet – just the requested items.
-Always be polite. It is not in your best interest to argue with the officer at the scene. If you believe you have not been treated in a professional manner, you should contact the appropriate police department at a time following the traffic stop, and ask for a supervisor.
If you are given a citation and disagree with it, you are entitled to a court hearing where you can present your arguments. Spivak Law Firm represents people in traffic court throughout the Pittsburgh area. To speak with a traffic law attorney, call Spivak Law Firm at (412) 344-4900 or toll free at (800) 545-9390.