Pittsburgh Criminal Lawyer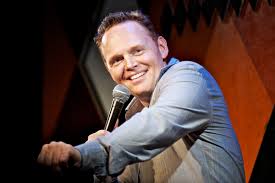 Domestic violence is no laughing matter – except in the hands of comedian Bill Burr, who will be performing two sets in Pittsburgh this week at Heinz Hall.
Here's an excerpt from the funnyman's 2012 special You People Are All The Same:
"Obviously I'm not saying to hit a woman, you know. But saying there's no reason, I think that's crazy.
When you say there's no reason, that kills any sort of examination as to how two people ended up at that place. You say there's no reason, you cut out the build-up; you're just left with the act. How are you gonna solve it if you don't figure it out?
Look how awkward it is in here right now. I said you shouldn't hit a woman. I'm just saying, how come you can't ask questions? You can only ask questions about what the guy did. You can never about the woman. Why is that?
Look, I understand hitting a woman's a bad thing, okay. How come you can't ask questions? I just don't understand.
Like, if I got bit by a rattlesnake, wouldn't you guys have some questions? Right, how did it happen? Did you not see it? Were you [messing] with it? How did a snake get so mad it almost killed you?
Firemen put out a fire, they don't just drive away afterward. They sift through the debris. How did it start? Here's an oily rag! Right?
Look I realize I'm coming off pretty ignorant right about now. I realize that. Let me extend an olive branch then, okay?
I realize that there are some animal guys out there. Horrible guys, you know, have a rough day at the factory, come home – 'tuna casserole?' – and just start swinging, all right? I'm not trying to say that those people don't exist. I realize that they exist. They should be buried underneath the prison. Okay?
So if I can admit that, ladies, can you at least admit that every ass-kicking doesn't just fall out of the freakin' sky? Really?
Even hockey has two minutes for instigating!"
Spivak Law Firm handles all family law and criminal defense matters with a focus on domestic-violence issues. For a free consultation, call Spivak Law Firm at (412) 344-4900 or toll free at (800) 545-9390.